Features for Electric Tourist Bike Cart
All our Electric Surrey Bikes (Electric Tourist Bike Cart)are designed for commercial use.
Electric Surrey Bikes are designed to provide you with smooth, worry free operation so that you can focus on more important parts of your day...such as having FUN!
Power Supply:
We use Lithium Iron Phosphate Oxide Battery (LiFePO4 battery)on the vehicles. The durability of a capacity 24V60AH LiFePO4 battery can last at least for 5 hours (Maximum up to 8 hours)(Running speed at 15km/hour) for carrying 4 adults. This benefit can save time for changing batteries if you are running a surrey bike rental business.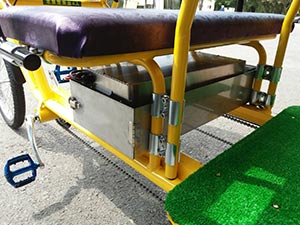 LFP Battery (Lithium Iron Phosphate battery) has following significant differences:
1. The chemical stability improves battery safety.
2. The temperature tolerance is excellent.
3. Meet environmental requirements.
4. LFP chemistry offers a longer cycle life than other lithium-ion approaches.
5. LiFePO4 batteries have a very constant discharge voltage.
6. High current discharge is workable for LFP battery.
The disadvantage of traditional Lead-acid batteries: The maximum cycle is only about 100 times for discharge. The average lifespan is roughly 1 year only. The endurance can last up to 2 hours only. If you are running a shop for electric bicycles or electric surrey bikes, you are not willing to see replacing batteries quite often. It also will be headache matter to buy new batteries all the time. Even though the price for lead-acid battery is cheap, it is still a waste. The LiFePO4 batteries have the cycle life: at 2000 cycles at standard discharge conditions. And the average lifespan is longer than 3 years. It is obviously to find the merit of LFP batteries.
Our "Electric Vehicles" such as Electric Surrey Bike Quadricycle act in concert with LFP batteries. They save your money and time. Be efficient in running business. Because The LFP Batteries are high in energy density, low in malfunction, long in lifespan and good in endurance.
The life of LFP battery is up to 3 to 6 years, no need to worry about explosion and outbreak of fire. They will be the best equipment for power plant and transportation power supply. Although the cost of LFP batteries is much higher than Lead-acid batteries, it is valuable. If you are like us concern about lifespan, safety, endurance and effectiveness, LiFePO4 Batteris will be your best choice.
Electromechanical integration: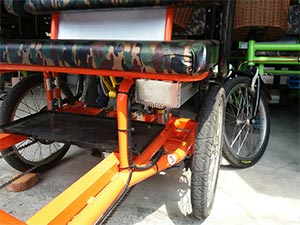 For electric surrey bike, we made the software and particular design for control unit, it is there are 2 CPUs inside the control unit. Passengers' safety can be assured. We are confident in electromechanical integration.
Motor
We use 800Watts DC Brushless Motor act in concert with LFP battery in our Surrey Bike Quadricycle, these quadricycle bikes can ride to 12 degree slopes. Moreover furthermore, we offer "Enhanced version Surrey Bike"(work with 1200Watts DC Motor). The enhanced surrey bikes can ride to 25 degree slopes, this feature might fit the needs of specific amusement parks or theme parks.
The advantage of brushless motor is that when ran out of battery, there is no impede for riding on pedal.
Our surrey bikes are equipped with the Differentials. The function of differential helps us to have a better control for turning right or turning left.
Main Frame and parts:
1. Framework: The main frame of surrey bike is completely made in Taiwan. The bike frame can sustain 500 kgs. Can you imagine a bike can support the weight of 4 adult people? Yes Surrey! Any type of our surrey bikes can load 500 kgs. And we are also aware that weight of surrey bike might be somebody's concern when bike is powered off, our quadricycle bikes are designed to move easily even the power off. The powdered coating finishing prevent iron pipes to get rusty if location near the ocean. Our surrey bicycles are strong on pipe surface,and can work near beach or near lake shore.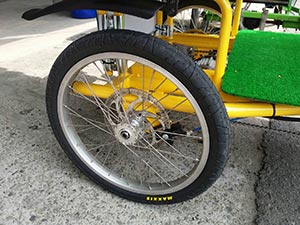 2. Wheels: We use KENDA or MAXXIS bike tires, they are strong and endurable. Easy to maintain and fix up is another feature for our surrey vehicles. The 4 wheels use the same size tire, and there is no distinguish for the right and the left.
3. Balance, it is also important for these surrey cycles.
4. Brakes, We use V brakes for the front and disk brakes for the rear.
5. Parts: Pedals, cranks, front forks, are all high-ranking bicycle parts.
6. Six models of surrey bikes, they are Electric-4 person, Electric-Lovers, Electric-Family, Manpower-4 person, Manpower-2 person, Manpower-Family. And new added products in December of 2017, they are "Electric Surrey Bike 6 person" and "Manpower 6 person Surrey Bike".
7. Tailor-made service, we design and invent new type of vehicles according to customer's request.
Services: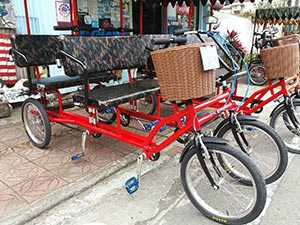 Transportation vehicles such as our Tourist Electric Surrey Bikes, we care about passengers' safety, easy to use, vehicles can work under heavy duty, low malfunction. We hope these quadricycle surrey bikes will help to lure customers, and bring you more business and money.